Good days are always followed by bad, and vice versa
CURRENT MUSIC: CARLITO'S THEME by WWE SUPERSTAR CARLITO
It's true. Good days are always followed by bad days, and then good days, and then bad days and this goes on and on. My most recent experience would date back to last Wednesday.
After work, I went down to town together with Shaun and met up with two of his friends. We had fast food for dinner and thereafter caught the movie 'Memoirs Of A Geisha'. I thought the movie wasn't fantastic, but it ain't that bad either. I'd give 3 stars for that. For 7 bucks, the show's worth the price and Jingyi agreed with me. Made two new friends in Jingyi and Ruby. Jingy is a very sociable girl, easy to talk to, whereas Ruby seems to be the quieter of the pair, but nevertheless shez still nice and sweet. Wednesday was a good day.
Then came Thursday. I woke up feeling extreme pain in the throat and I really could not bear myself goin to work in such pain. Hence, I decided to sleep on and report sick for the day. Stayed home to rest for the whole day. The diagnosis was flu and very bad sore throat. Doctor's medicine was great though, the lozenges provided made quick work of the irritating sore-throat. But the flu had other ideas and wouldn't go away. It was torturous Thursday indeed.
Friday was another bad day. Still sick, I forced myself to work. Tried my best to concentrate, but I finally surrendered to the sickening flu and reported sick at the medical centre. I do not understand why the doctors there are so reluctant to give MCs because I'm seriously sick and feeling so rotten, and yet the only words that came out from his mouth were, "Oh, not to worry, nothing serious, ok go wait for your medicine outside. I'll just give you a light duties slip." Like WTF rite. Went back to office and got permission to rest for a while and fortunately I felt better after the nap. Friday, however, was still a bad day, because my whole day was wasted sleeping my ass away.
The weekend was the transition period. Bad days are gone. Good days approach. In point form let me list down what went well that day:
- My flu condition wasn't as bad as compared to Thursday or Friday.
- I enjoyed the visit to my Aunt's place and got a few more hongbaos.
- I gambled and won quite a pile.
- I finally got to watch 'I Not Stupid 2', the show I'm most keen to see currently.
'I Not Stupid 2' was a great show, and as I told Gillian, I really love Jack Neo productions because his movies somehow bring out a Singaporean flavour in it. Perhaps his movies always have those hokkien lines which never fail to make me laugh. I don't know. This movie is definitely better than 'Memoirs Of A Geisha'. At least I think so. 4 stars I will rate for this movie. Of course, it really goes down to personal liking, I guess if I asked Shaun, he'd probably prefer Geisha. Hahz.
Me, Grace, Thomas, Jacq @ Penang's very own Tropical Fruit Farm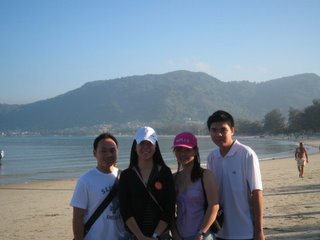 Same people @ Patong Beach, Phuket. I look like I just woke up.